3D Enabled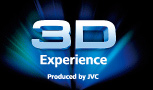 For 2018 JVC offers excellent 3D performance with a higher brightness light engine: 1,800 lumens for the DLA-X590R; 1,900 lumens for the DLA-X790R and 2,000 lumens for the DLA-X990R.
3D operation requires the optional PK-AG3 3D RF glasses and the optional PK-EM2 3D RF emitter. All JVC Procision X-Series models are 3D enabled. JVC uses a Frame Sequential Method that provides a full 1920 x 1080 pixels to each eye without crosstalk and flicker. Images are so realistic and so natural-looking that it's like being pulled into the scene. With the frame sequential method, separate left-eye and right-eye images are alternated and require active shutter glasses to perceive the image correctly.
3D is an immersive experience. To truly appreciate it, a large screen is required. JVC D-ILA Procision projectors are the best way to enjoy 3D without compromise. These projectors make it possible to enjoy 3D with an engaging cinematic size that even the largest flat panel TV just can't match. In fact, JVC Procision projectors deliver a 3D experience that far exceeds what a movie theater can offer.