8K/4K Technology
8K. LASER. HDR
8K Resolution with 8K60p/4K120p Input and JVC Original 8K/e-shiftX Technology
Equipped with newly developed 8K/e-shiftX technology to achieve 8K resolution
Significant progress has been made to our proprietary 8K/e-shift technology - which combines "e-shift" high-resolution display technology that doubles the resolution by shifting a pixel by 0.5 pixels, and 0.69-inch native 4K D-ILA device. Shift direction has increased from the conventional two diagonal directions to four directions of up, down, left and right, to enable display of 8K signal information in its entirety. The result is a near-native 8K resolution, enhancing the sense of three-dimensionality and immersion.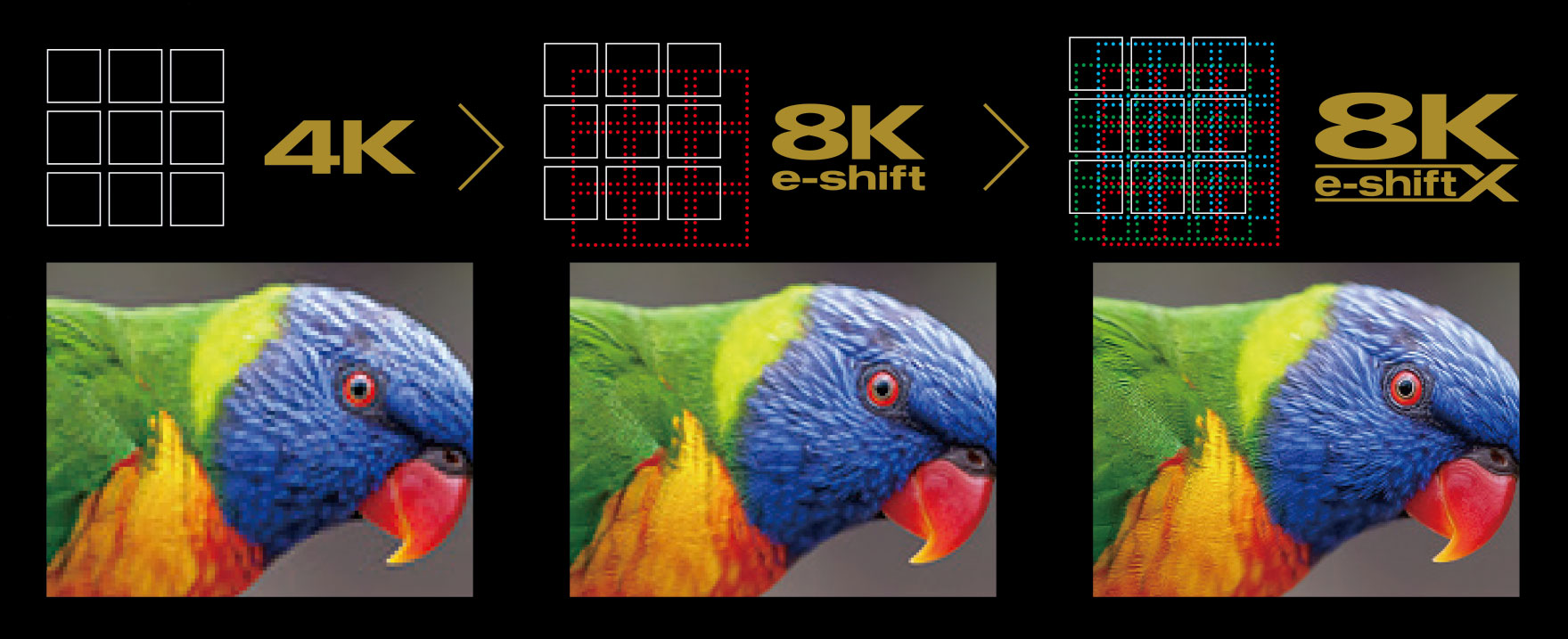 See how the native 4K image becomes sharper with 8K/e-shift processing, and as if it is alive with 8K/e-shiftX processing.
World's first home projector capable of inputting 8K60p/4K120p signals*1
*1: As a home theater projector, as of September 2021; according to a research by JVCKENWOOD.
Speed is essential for processing the vast amount of 8K input data, and stable, high-quality expression of 8K images is reliably achieved with JVC projectors (except for the DLA-NP5) with adoption of LSIs developed with the latest technology.
The engineers at JVC also worked hard to fully evolve the up converter to display conventional content in 8K format. In order to bring any source content up to high definition 8K resolution, the process was reviewed from the ground up to heighten the performance in achieving the extreme resolution. Whether the source is video streaming, HD or 4K UHD-BD videos, more beautiful and realistic video images full of contrast and reality can be enjoyed by up-converting the image to 8K information content.
The key to the excellence in JVC D-ILA projectors lies in its ability to support the future in video, and provide a long-term home theater experience with confidence.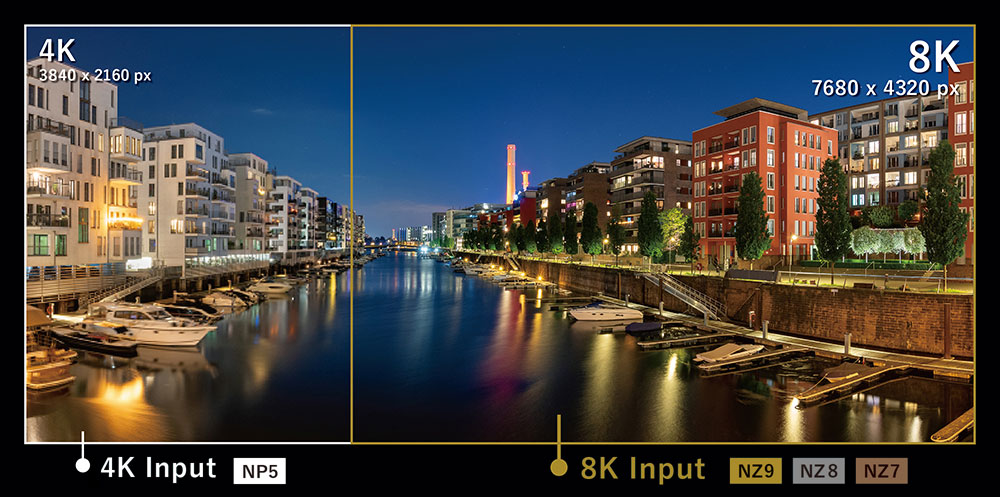 4K120p input ideal for Low Latency mode
Because all models are equipped with 4K120p input, signal latency is infinitesimal, making it effective when displaying high frame-rate gaming content like the ones that are expected to increase in the future. And Low Latency Mode also featured on all models reduces delay in displaying PC signals and games, and improves response performance to users' quick operations. Because high-bandwidth signals can be processed without applying any conversion, the image displayed on the screen from input to panel will be the same without degrading the video signal quality. The combination of 4K120p input and Low Latency Model will open up new possibilities for using projectors for high quality gaming on large screens.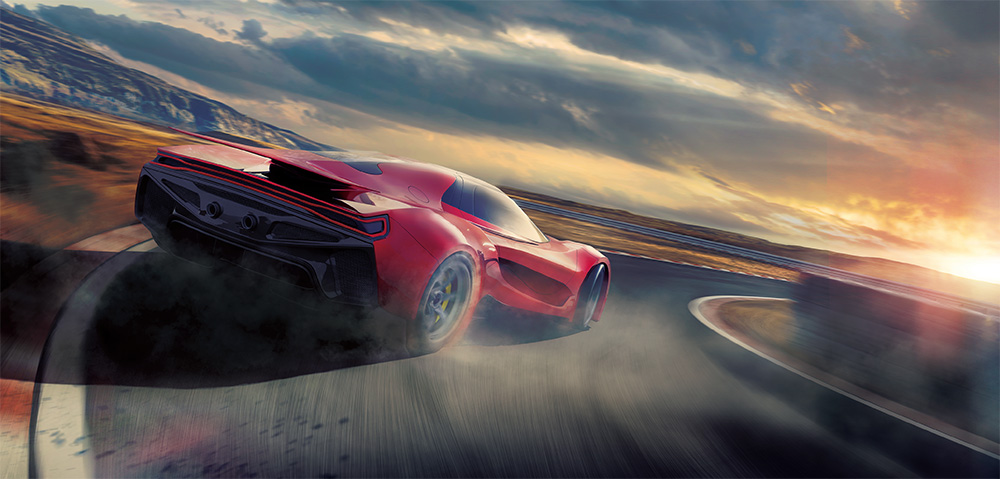 Essential all-glass lens to depict all the data in the 8K image
A high-performance lens system is essential for displaying the 8K high-definition information. The high-end model DLA-NZ9 is equipped with an 18-element, 16-group all-glass lens featuring a full aluminium lens barrel. In order to project high-resolution images to every corner of the screen with the 100 mm diameter lens offering a wide lens shift of ±100% vertically and ±43% horizontally, the projector incorporates five ED lenses calibrated for differences in the R/G/B refractive index to reduce chromatic aberration and color fringing when lens shift kicks in to deliver precise reproduction of 8K-resolution projection. Other models feature a 17-element, 15-group all glass lens with 65 mm diameter to project fully focused 4K or 8K*2 resolution to all corners of the screen.
*2: Resolution varies depending on the model.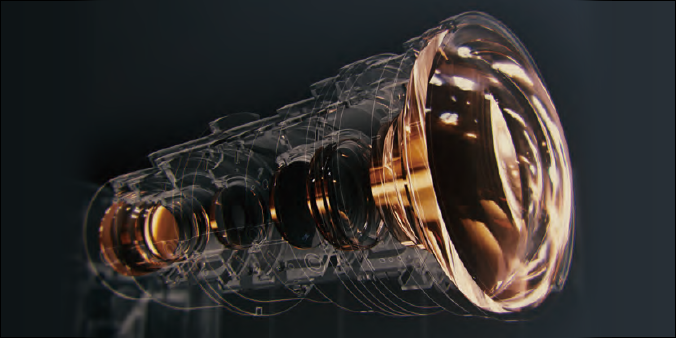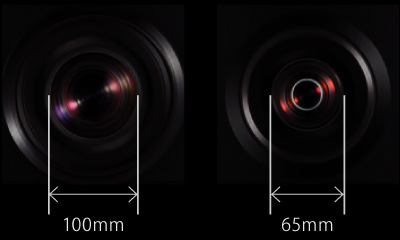 Ultra-High Contrast Optics with 4K D-ILA device
High-resolution image projection is reliant on the device and the optical system, which is the heart of D-ILA projection. All models are equipped with 0.69-inch 4K D-ILA device that has been drastically refined, doubling the speed required to display images from 120 Hz to 240 Hz-equivalent.
The 2021 8K/e-shiftX models feature Ultra-High Contrast Optics. Prism polarization in the Ultra-High Contrast Optics boasts a 10% increase in the light output, which is enabled by the effective use of green (G) component, contributing to optical brightness of 3,000 lumens despite its compact housing. Also, the new system has dramatically improved the image quality by thoroughly suppressing the return of unnecessary light to the projection screen.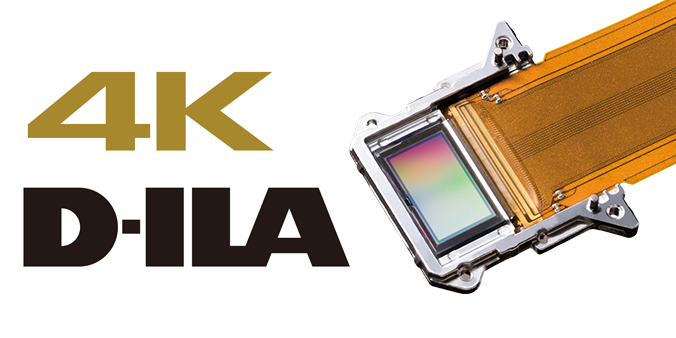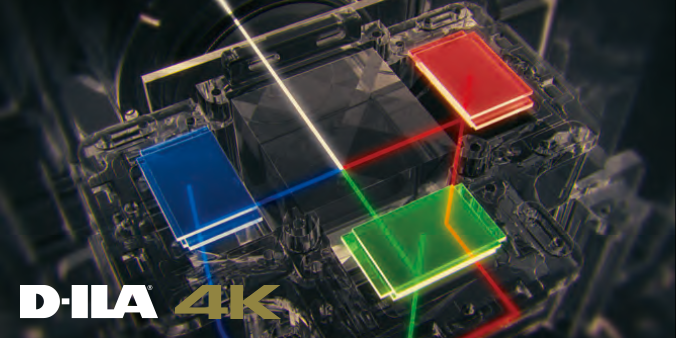 All models are equipped with 0.69-inch 4K D-ILA device that has improved drive performance, whereas the Ultra-High Contrast Optics (imaged on the right ) has been designed for the high-end models featuring the 8K/e-shiftX.