JVC Advanced Technology
Improved the precision of JVC's original Clear Motion Drive*1
The interpolation algorithm for JVC's original Clear Motion Drive technology that reduces ghosting has been revamped to improve compensation accuracy in the periphery of intersecting objects. The improved algorithm now refers to more frames to increase precision of motion prediction and also reduces frame latency. Added with Motion Enhance technology that optimally controls the driving performance of D-ILA drives by image characteristics, the projector is capable of reproducing much smoother moving 4K images.
*1: The function is disabled when inputting 4K120p 8K signals

Proof of high-grade, high-quality projectors — licensed with ISF Certifications
All models are licensed with the ISF C3 (Certified Calibration Controls) mode, enabling trained dealers to professionally calibrate them to desired screen surfaces, lighting environments and video sources, and then securely store these precise settings into the projector.
6-axis Color Management System
A 6-axis matrix of red, green, blue, cyan, magenta, and yellow enables the precise adjustment of hue, saturation, and intensity. Users can make adjustments suitable for the content as the projector allows precise management of colors.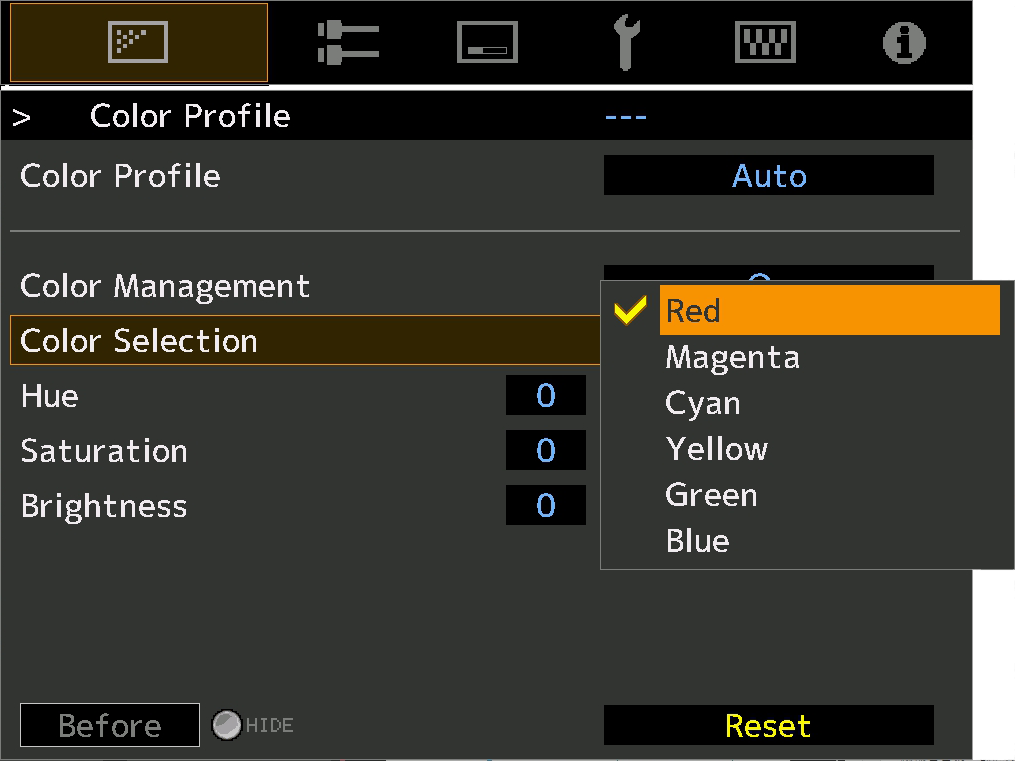 Auto Calibration function
Using an optical sensor and proprietary software*2, optimum calibration can be applied in just a few easy steps to match the changes in optical characteristics caused by the installation situation of the projector. Auto-Calibration optimizes all essential elements found in the image, including color balance, gamma characteristics, color space, and color tracking. In the past, multiple calibrations were required, but now it's possible to complete the calibration with a single calibration.
*2: An optical sensor and proprietary software, which is downloadable from JVC website, are required to perform auto calibration function. Refer to the JVC website for details.

Functions to make appropriate settings according to the video signal and Menu structure
Today's diversified video signals require settings that match the input signals for viewing at an appropriate picture quality. The latest projectors from JVC provide various functions and menus for easy, optimized use of the settings. To name a few, there is a menu for Content Type, a function to automatically switch Color Profile, and a function to set Auto Pic. Mode Select.
Content Type menu: Use this menu to select the best "picture quality mode" for the input video without worrying about complicated manual gamma and gamut settings.
Automatic Color Profile Switching function: Use this function to automatically switch to the optimal color profile according to the color gamut information of the video signal, eliminating the need for manual switching.
Auto Pic. Mode Select: Use this function to set the "Picture Mode" corresponding to each input signal (SDR, 3D, HDR10, and HLG).