Convenient Features
Installation Mode
These projectors are equipped with Installation Mode that allows users to centrally manage settings related to installation in order to enjoy projected video optimized for each environment. As shown in the graphical interface, eight settings for Lens Control, Pixel Adjustment, Mask, Anamorphic on or off, Screen Setting, Installation Style, Keystone, and Aspect can be adjusted. Additionally, ten different mode settings can be stored in memory and named as desired. Installation modes stored in memory for various environments can be called up immediately.

Lens Shift function
Flexible installation is made possible thanks to the wide lens-shift function. As described in the diagram, wide shift ranges are offered vertically and horizontally to help deliver natural projected images without distortion.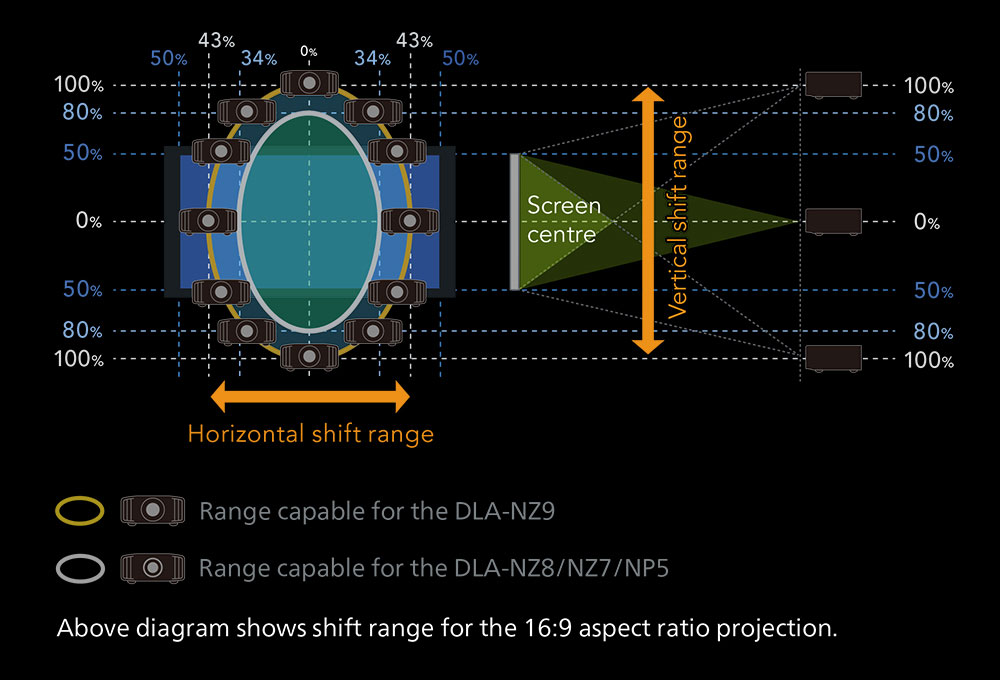 Screen Adjustment Mode
Screen Adjustment Mode is one of the nine Installation Modes described above. When the user selects a setting that best suits the screen being used from the Screen Adjustment Mode settings, the projector adjusts the image with natural color balance to match the screen. The mode is compatible with the latest models offered by the world's major screen manufacturers.

Digital Keystone Function*
These projectors feature Digital Keystone Function. Digital Keystone adjusts keystone distortion that occurs when the projector is placed in a tilted position.
*: Digital Keystone Function cannot be used simultaneously. Keystone adjustment corrects only in the vertical direction.
Anamorphic mode for wide cinematic films
A 2.35:1 aspect ratio for wide cinematic films can be enjoyed by combining the projector with a third-party anamorphic lens to create dynamic picture reproduction just as can be seen in a movie theater.

Intake/exhaust layout and Footprint designed for ease of installation.
Rear air intake and front exhaust layout provide flexibility for a variety of installations. Screw holes at the feet are compatible with a conventional ceiling-mount bracket, while the anti-skid grooves prevent the projector from slipping when installed.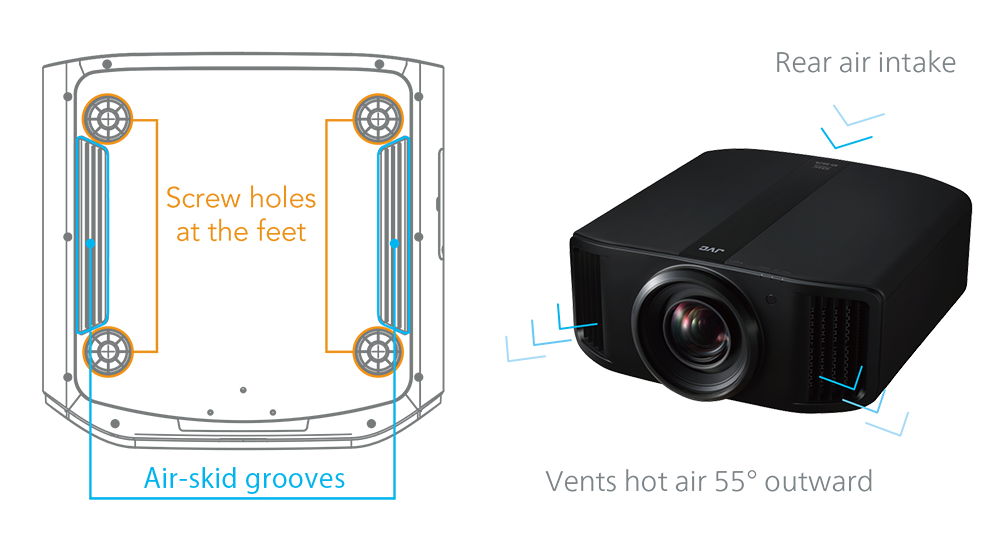 JVC Unique Input and Output
JVC Unique Input and Output In addition to 3D compatible HDMI inputs, the projector features an array of other connections, such as an RJ-45 socket for projector control, firmware and configuration updates, and a trigger socket for an anamorphic lens or motorised screen. The projectors comply with the latest HDMI standard and HDCP with the two HDMI terminals.

Remote control