Laser Technology
8K. LASER. HDR
BLU-Escent, JVC's Original Laser Diode Light Source, Offers Depth and Dimensionality to 8K Imagery

Reliability-proved BLU-Escent for exceptional brightness and longevity
These new projectors (except for the DLA-NP5) feature the latest proprietary blue laser diode light source BLU-Escent. The technology featured in JVC professional projectors, which are often chosen for simulator applications, has been adopted for home theater projectors, realising brightness of 3,000 lumens*1 and longevity of 20,000 hours*2. With the increased brightness, these projectors ensure compatibility with large screen size. What's more, peak brightness while projecting HDR sources has improved, creating an overwhelming sense of dynamic range and an opportunity to utilize 8K high definition of greater depth and dimensionality in a way that has never been experienced before on home theater projectors. Combining the latest developed Blu-Escent package with the D-ILA device, which has high light utilization efficiency and a narrow gap between pixels, these projectors enable detailed, smooth, powerful video expression.
*1: Brightness of 3,000 lumens for the NZ9, 2,500 lumens for the NZ8, 2,200 lumens for the NZ7.
*2: In theory, this amounts to 20 years or more while watching a 2.5-hour movie every day.
The advantage of laser light source over lamp is because multiple light sources make it possible to compensate for the loss of one light source using other light sources.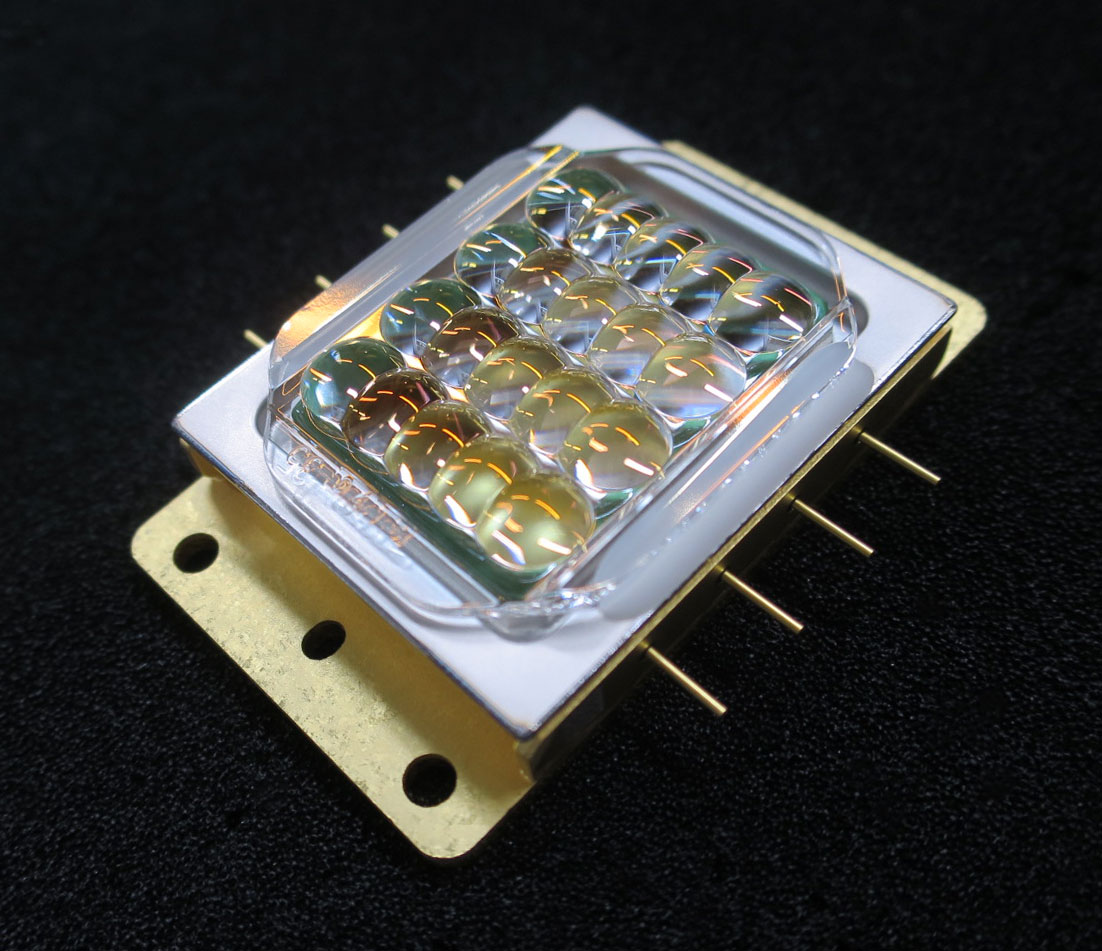 Dynamic control of the light source to achieve high quality picture
Compared to conventional mechanical aperture, the laser diode equipped on the laser light source allows dynamic control of brightness with only a slight delay. It is possible to reproduce images that are closer to human perception by controlling the output of the laser according to the brightness of the video scene. Additionally, infinity (∞):1 contrast ratio has been achieved by controlling the laser output while the image is not displayed or detecting a signal.
Unparalleled black level achieved through high contrast ratio and high luminance deliver images brimming with reality
The 0.69-inch 4K D-ILA device and the optical engine employing a wire grid alone realize a native contrast of 100,000:1 on the DLA-NZ9*3. But on top of that, in combination with the dynamic light source control that automatically controls the output of the laser light source by analysing the input video source, an astonishing dynamic contrast of ∞ (infinity) :1 has been achieved not only for the high-end model but for all models equipped with the BLU-Escent light source. The synergistic effect of the ultimate dynamic range created by the high luminance will allow you to experience impressive, high-quality 8K images full of reality.
*3: Native contrast ratio of 100,000:1 for the NZ9, 80,000:1 for the NZ8, and 40,000:1 for the NZ7.
The NP5 delivers 40,000:1 native contrast ratio with 400,000:1 dynamic contrast ratio.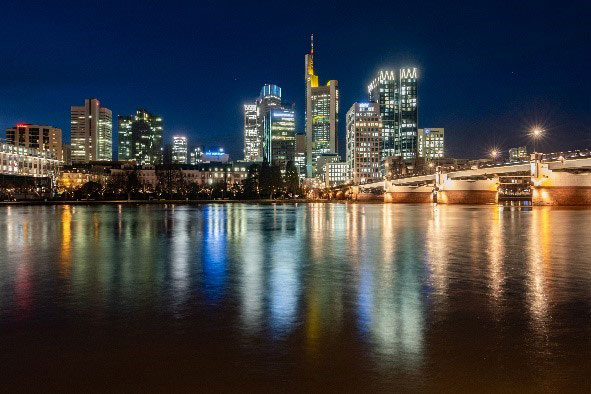 New algorithm on the laser dynamic control*4
New
Laser Dynamic Dimming control was previously based on the average luminance of the entire scene. With the new mode, adjustment is based on peak luminance. This results in images with increased dynamic range. In particular, the new mode improves reproduction of content such as stars twinkling in pitch blackness and nightscapes. In addition, even images with low peak luminance can be enjoyed with a greater sense of contrast.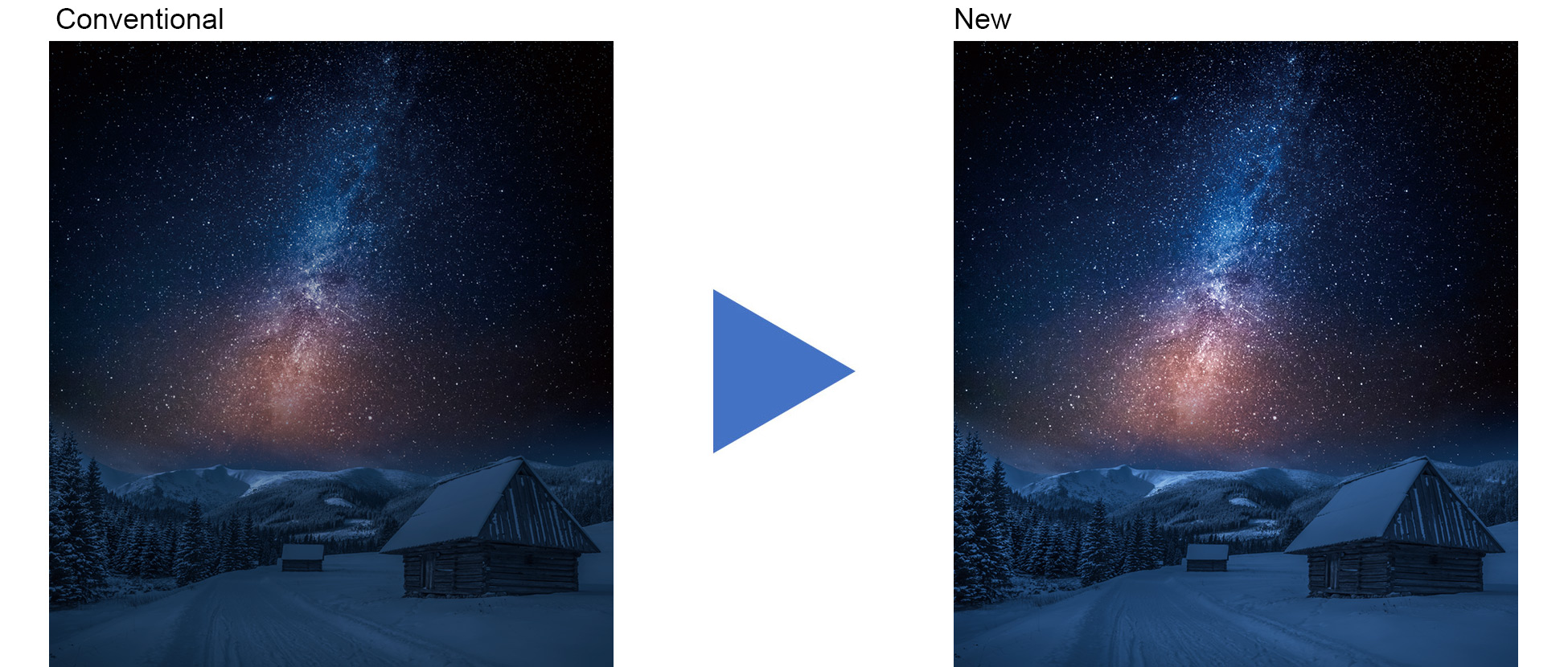 *4: The feature will be available through a firmware update scheduled for November 2022.
Vivid color images achieved with DCI-P3-equivalent wide color gamut
The use of a laser light source and cinema filters enables a wide color gamut equivalent to DCI-P3, not to mention BT.709. HDR content, as typified by UHD Blu-rays, uses a much wider color gamut than ever. When such content is projected on the DLA-NZ9 or the NZ8 with a wide color gamut, it is possible to richly reproduce colors that were difficult to reproduce until now, such as the gradations of the sky and ocean, the contrast of red roses or a row of fresh green trees.